Steel Targets? Here are some customer favorites
All targets from top quality laser cut USA AR500 Steel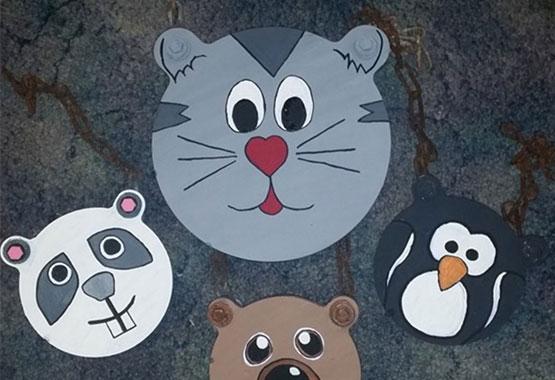 Shooting Steel Is More Fun
We had a customer contact me and let me know his wife got ahold of his shooting plates (look closer) and thought it was too funny not to share.
Steel makes for the best shooting targets and not just because they can be painted up to look like critters.
Instantly hear if you hit or miss so you can learn faster and that means you become a better shooter in less time
Steel shooting targets are much more fun than paper and you will shoot more often so you will be driving tacks like a pew pew operator
Get the most benefit from your ammo because ammo is expensive and you get more for your training dollar using our reactive steel targets
Why Ditch Paper?
If you have not shot steel shooting targets yet you have really been missing out. Steel targets not only make shooting more fun but much more productive as well. There are many reasons why but here are just a few of the bigger ones;
Better Training With Steel

Metal shooting targets sound off and move when hit so you know if you are on target or are making a mistake right away. It's this instant feedback that will make you a better shooter faster, using less ammo than boring paper targets.
Long Target Life / More Fun
When used correctly our steel shooting targets can last a lifetime. Initially, it may seem like a large investment but unlike boring nonreactive targets, you only need to buy them once. Customers tell us all the time they wish they had tried shooting steel sooner and that they are done with paper targets forever after trying steel. Ammo is expensive why not get the most from it?

Why Buy From Us?
USA Steel
Our steel is from the good old USA and (NOT CHINA) like many smaller manufacturers use. All steel is bead blasted front and rear prior to being laser cut (NOT PLASMA) to ensure the cleanest cuts possible.
AR500 can vary in hardness significantly between suppliers and even batches. We've been at this for years and only buy from who we believe to be the best and most proven steel supplier. We have stringent hardness specs in place and anything not meeting them is sent back at their expense.
We buy in multiple truckload quantities so we can pass the savings on to you.
99$ Ships FREE and Fast
Shipping is on us (lower 48) if you spend just 99$. Our laser cut targets and accessories ship within 2 business days (usually sooner). We laser cut our steel ahead of time and maintain stock to help us keep up with the demand so you don't have to wait.
High Quality at Low Prices
We pride ourselves on offering the highest quality AR500 steel targets at the lowest prices. With over 13,000 reviews from customers and industry experts, you have to be doing something right!
"The Gold Standard"
We yellow zinc plate our steel so our products look fantastic. More importantly, being a chemical bond it stands up to weather and spall much better than paint or powder coat.
That means your targets arrive clean and completely clear of rust and oil.
What is the difference between AR500 steel and AR550 steel?

AR550 is slightly harder and more expensive than AR500 and will also pit although to a lesser degree than AR500 at bullet speeds above 2850fps.




However, it may also be more likely to crack with prolonged use due to its increased hardness and associated vibration.




AR500 will be the best value over AR550 unless firing rounds such as 5.56 or .308 and higher FPS rounds.


How much is a sheet of AR500 steel?

The cost of a sheet of AR500 varies with thickness as well as the size of the sheets. Sheets are typically 48"x96" or 60"x96" and the most common thicknesses used for targets are 1/4" 3/8" and 1/2".  




Steel prices are on the rise but a sheet of AR500 typically can cost between $500 and $900 depending on the supplier and country purchased from.




We do business with the best in the industry so that the savings and quality of products are passed on to you!

What is AR500? Much like AR450 and AR400, AR500 is a specific type of Abrasion-Resistant steel which is where the name AR500 comes from.




This has a surface hardness of 477-534 BHN. It is a high-carbon steel alloy that provides greater impact and sliding abrasion resistance by comparison to lesser types of steel such as mild steel.


Do thicker AR500 targets such as 3/8", 1/2", and 5,8" hold up to pitting beter than other thicknesses?

No, they do not.  Pitting occurs because of using the incorrect ammunition type and the FPS of rounds being higher than 2850 FPS which causes excessive heat and damage to targets. 




When shooting, for the best results we recommend ball-type ammo or FMJ if there is no steel in the rounds.




Using ammunition like these will keep your targets in great condition, and remain useful for years to come without replacement.

Why should I buy an AR grade steel target instead of using what i have accessable for shooting?

AR grade steel is designed and made to hold up to the abuse and harshness of being shot at (with proper use) for years and years while remaining smooth and safe to shoot.




Typically the targets or items an average person would shoot at would be made of wood, aluminum, or mild steel.




These items do not have the ability to be re-used and will cost more in the long run than a single AR500 grade target will.

Bullet spall on steel targets: What you need to know.

What is bullet spall? Bullet spall is the result of a bullet impacting the steel target and breaking into smaller pieces.




It can cause damage to the target or surrounding objects, but it's also possible for fragments to fly off at high velocities - potentially injuring nearby people.




For this reason, you should always wear shooting glasses when shooting steel targets.


What is pitting on reactive steel targets?

  Pitting on reactive steel targets is caused by friction and vibration from a round fired with too high of an FPS (Feet Per Second) speed, and the make-up of metals in an ammunition round.

 

  A good example is an AR15 with a 16" barrel and 55-grain bullet which is typically at or above 2850 FPS. If firing at 100 yards or less it is likely to cause pitting and damage to your targets.

 

 The exchange of heat between a bullet and the target can cause "Hot Spots" or even cratering which lowers the integrity and strength of targets over time. 

Can you leave steel targets outside?

Yes, you can leave steel targets outside, especially ours.




We yellow zinc plate all of our targets and accessories giving them protection from the elements and even spall.




This protection far exceeds paint or powder coating because it is a chemical bond.




That means that our yellow zinc plated steel targets (The Gold Standard) are a great choice for outdoor firing ranges.

Is it safe to shoot an FMJ round at a steel target?

  Steel targets are a great addition to any range and shooting enthusiasts should be aware that they can be shot with FMJ rounds.

 

  The AR500 used in our products is made of high-quality laser cut steel, which means it is not as susceptible to deformation when struck by an FMJ round.

 

  While the FPS (feet per second) needs to stay under 2850, the target will last much longer than paper or other lighter material targets.


Is shooting at steel targets safe?

  Steel targets when used properly and with common sense are among the safest targets to shoot at.

 

  AR grade steel is more resistant to spalling and ricochet allowing shooters to have more peace of mind.




  Always be sure that your steel targets are the right ones for your rounds by checking our Target Thickness guide, and that you are keeping the FPS of bullets under 2850.

How to hang steel targets?

When hanging targets the safest and proper way to hang them is at a slight angle facing the ground and making sure your target is able to swing freely.   




Hanging targets at an angle allows rounds to deflect towards the ground after impact, keeping from unwanted damage, injury, and protecting your targets. 




When used with chains or straps we mount targets on our superbolts that angle the targets towards the ground for increased safety and reduced heat into the targets.




What type of steel is used in shooting targets?

  Most if not all quality shooting targets use AR-grade steel.  AR steel is an Abrasion-resistant high-carbon alloy steel plate, this makes them more resistant to spalling, pitting, and unwanted ricochet.




  All of our targets are AR500 plates, which make them a great choice for shooting targets and value for long term shooters, shooting practice, and beginners to learn and hone skills with. 

Is it safe to shoot at reactive steel targets?

  Yes, it is safe to shoot at reactive steel targets.




  With the benefit of AR-grade steel being resistant to pitting and ricochet, shooters have more peace of mind knowing that they don't have to worry about injury or damage like with mild steel, wood, or other items that could be used as targets.




  Just like with any type of gun proper safety is always key, make sure to wear eye and hearing protection for the best results.

Are steel targets dangerous?

  When not using AR-grade steel targets there is more of a risk for injury, property damage, and unsafe shooting.




  When picking any target for shooting, always make sure it is AR500 or AR550 steel and that you are using ammunition that is not steel jacketed, steel core, solid copper, brass, or armor-piercing.




  For the best results and to lengthen the life of your targets use ball-based rounds, FMJ (Full Metal Jacket), or frangible ammo that travels at less than 2850 FPS.  Always be sure to take proper safety precautions when you are going to shoot steel.

How do steel targets not ricochet?

  When using proper ammunition, non-defective or damaged targets, safe shooting distances, and well-built targets the chance of ricochet is very slim.




  Steel targets allow instant feedback on landed shots, which means you don't have to go down range to check your targets and can spend more time shooting safely.




  Having all of your steel targets properly mounted and hanging correctly will allow rounds to dive towards the ground after impact, which keeps ricochet to a minimum.

How to angle steel targets?

The most common way to angle all steel targets is by hanging targets with either chain or rubber straps. We hang our targets on our superbolts that allow the target to hang with a downward angle of roughly 15 degrees while remaining able to swing freely. 




The height of reactive steel targets is generally up to the shooter with most choosing somewhere around 48" off of the ground.  Allowing targets to swing freely and having a slight downward angle is a great safety measure as as as being better for the target because they see less heat.

What paint should i use for steel targets?

  When painting steel targets we have found the best success in flat white Rustoleum primer for covering targets. Cheaper brands of paint can cost you more in the long run as they do not have as good of coverage and you will find yourself using more paint more often.




  Adding a coat of paint to your targets makes it easier to see landed shots and adds a whole other level of shooting experience, give it a try some time!

Best chain for hanging steel targets?

  We recommend 1/4" 30 proof zinc plated chain or our rubber strap set-ups. Using these allows for the durability and longevity of mounts, and are easily put together and taken apart for transport.




  As a rule of thumb, we like to use 2-1/2" bolts, nylon lock nuts, lock washers, and jam nuts for mounting kits. you can find these bolt kits, as well as full mount setups under our products tab.

Why use steel/metal targets for shooting?

  There are many benefits to shooting steel targets, but ill give you a few of the big ones.  When shooting reactive steel targets you get instant feedback on shots landed or missed, resulting in better shooting practices and accuracy.




  Reactive steel targets also can last a lifetime when used properly, this saves you money in the long run compared to paper or other target types that typically need replacing after each session.  Reactive Steel targets are quick and easy to set up and tear down, which means less time setting up and more time having fun shooting.

Where to buy steel targets?

We offer our whole range of laser cut steel targets right here on the website in our products section, as well as on Amazon and eBay. 




Offering multiple outlets allows us to give you the best prices on shipping, coupons, and discounts when signed up for our newsletter.




Check out our best sellers like the KYL paddle system, or our 3/8" Bullseye gongs. We offer free shipping on all orders over $99.




Saving you money and offering the highest quality products is top of the list for us!

What is the steel target thickness for 9mm?

The thickness of steel targets is very important, for 9mm rounds it is advised to use 1/4" thick targets. Using 1/4" targets will give the best sound on impact for this round, especially with the larger targets.

What are T-Post hangers for steel targets?

T-Post hangers are a handy mounting tool that allows you to make a stacked setup for shooting at your targets.  Here at Shooting Targets 7, we make our T-post hangers from the same laser cut AR500 steel as our AR500 targets use ensuring quality craftsmanship and a long-lasting item.  




NOTE: T-posts come in standard and heavy-duty, both can be found at any local hardware store for a reasonable price. it is recommended that you bring a T-Post hanger with you to check for fitment on the T-post.

What should i use for Ar15 steel targets?

Typically AR15's would mandate 3/8" thick targets. It is a common misconception that it is OK to shoot AR15s at 100 yds at AR500. This may or may not be true depending on bullet weight and barrel length. What is important is that the bullet speed is BELOW 2850fps at the target. For more information on this see our target thickness guide.

What options do you have on steel targets for 5.56?

  We would recommend using 3/8" or 1/2" targets for 5.56 rounds, these targets will hold up the best and give you an overall great experience when shooting.




  As with all targets and when shooting practice proper safety, use rounds that are under 2850 FPS, wear safety glasses and ear protection.

Whats the deal with 1/2 inch ar500 steel targets?

  Steel targets are designed with two purposes in mind: safety and durability.




  To keep shooters safe at all times while training or practicing on any range, these heavy-duty 1/2" thick sheets of steel were built from scratch so they're tough enough to withstand anything thrown their way by rounds up through .223 caliber ammunition (and even higher).




  From smaller handguns like 9mm pistols and 38 Special revolvers up through magnum calibers such as 357 Magnum rifles and 12 gauge shotguns—you'll be able to practice your aim easily and safely. 


What are shooting range steel targets?

Steel targets are used for multiple purposes, from recreational plinking to competitive shooting. Made of hardened steel and shaped in some cases like a human silhouette or other animal shapes such as deer, these targets can be shot with firearms and airguns alike.


Why shouldnt i buy cheap AR500 steel shooting targets?

  When looking for cheap steel targets, it is important to consider the quality of your purchase. You may find sites that offer so-called "cheap" or low-priced steel targets, but these points are no more beneficial than paper and cardboard when used as target practice.




  The whole purpose of using a metal target in shooting sports like archery or skeet (or any other type) is to reap from the benefits they have over wood/cardboard based materials, durability, increased noise upon being hit which alerts others on site where you missed and improved overall experience through use with proper distance setting up shots.




Be sure that you are getting the best quality targets, for the lowest prices.


What are AR500 bowling pin shooting targets?

  You'll have a blast when you hit our AR500 bowling pin targets!




  These are the perfect addition to 3-Gun and personal practice. Challenge your skills with our bowling pin shooting targets, they will be flying off of their stands once they're struck successfully by bullet fire.




  These targets will be a superior choice over traditional paper bowling pin targets. Our AR500 bowling pin shooting targets can be used as knockdown targets or hung with wither chain or rubber straps for different scenarios.


What is the 3/8 AR500 steel rating?

All of our 3/8" AR targets are rated for maximum bullet energy of 2100 ft-lbs of force and a maximum bullet speed of 2850 FPS. 




Any of our 3/8" targets will stand up to .223, 5.56, .308, 30-06, 30-30, 7.62, .243, 22-250 and 20g slug rounds without any issues.




Be sure to check our target selection guide so that you can find the best target for your ammunition.

What is the thickness of steel targets for rifle shooting ?

  We highly recommend using 3/8" to 5/8" thickness targets when shooting rifle rounds. The heavier the caliber, the thicker your target should be - our 3/8 inch models can withstand anything up to a 20 gauge slug while still being light enough for easy handling and transportation.




  For magnum calibers or .50BMG ammo we suggest getting one of our 5/8 inch thick panels; these are designed with heavy-duty steel plating that will stand firm in even rigorous training sessions on range day!




  Any questions about which type of bullet you have access to? Head over to our target thickness page where you'll find all sorts of helpful information including ammunition types best suited for each different surface area as well as safe use techniques.




Can you shoot steel with a shotgun?

It is not a problem to shoot shotguns at steel targets provided there is no steel in the load. Target thickness needed will depend on bullet force and you can determine that with our bullet force calculator.

Can you shoot steel with birdshot?

  Ricochet is not an issue with bird/buck on steel the typical safe distances are 10 yards or more.




  Properly placed charges of birdshot can even pulverize a plate at close range without any ricocheting back uprange towards the shooter!




  Slugs however do have limited energy to them; so it's important that you don't shoot slugs too closely against pieces of metal because they may come flying right back towards where they were shot from -- potentially hurting whoever was shooting in unintended ways.


How long does a steel target last?

With standard rifle calibers, an 8″ diameter 3/8″ AR500 target will last a few thousand rounds before replacement is required. Larger targets due to increased surface area will last even longer than that!


What is the thickness of a 5.56 AR500?

You should probably be using 3/8" AR500 and 3/8" AR550 if you are looking to use your rifle. It is the minimum recommended thickness due to its substantial increase in energy over pistol rounds, which we rate for rifles like 5.56/.223 ammunition or .308 winchester common short action calibers


What thickness steel stops a bullet?

The perfect backstop to a bullet is usually metal and can be found in different types of thicknesses. 1/4″-1/2″ steel, 3/8" -3/4" aluminum will not only stop the projectile but also absorb some kinetic energy from it.


What kind of steel can you shoot?

It is never a good idea to shoot mild steels as they can deform and or pit when shot. This can lead to irregular surfaces that could possibly turn your ammunition around and send it back to the shooter. 




Hard steels such as AR500 maintain a nice smooth surface when shot under 2850 ft per second so bullets are deflected safely to the ground as intended.

Can i use green tip ammunition on AR500 steel targets?

"Can I use m855  green tip ammunition on my AR500 targets?" If you would like them to last the answer is most certainly "NO." AR500 steel targets are made for durability, visibility and loud ringing when hit with a bullet; they definitely aren't "bulletproof."  Be sure to use proper safety techniques when you shoot steel.