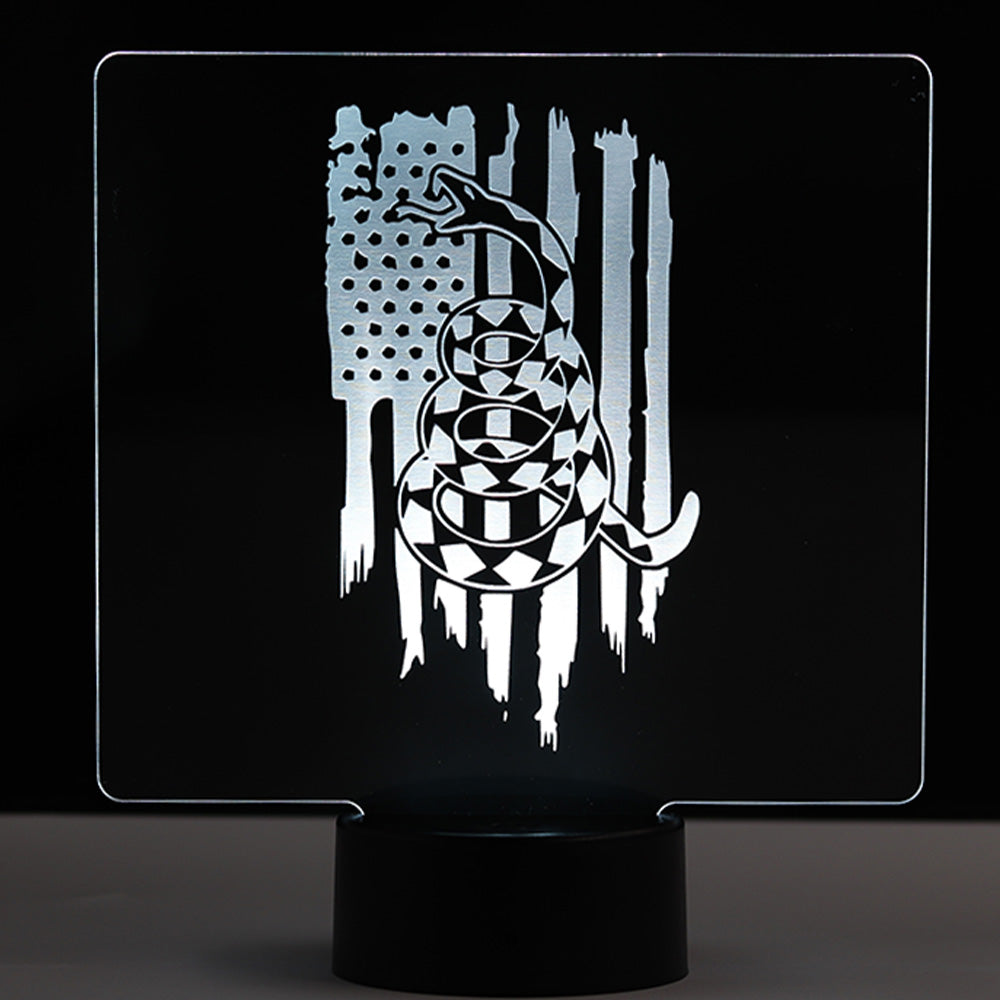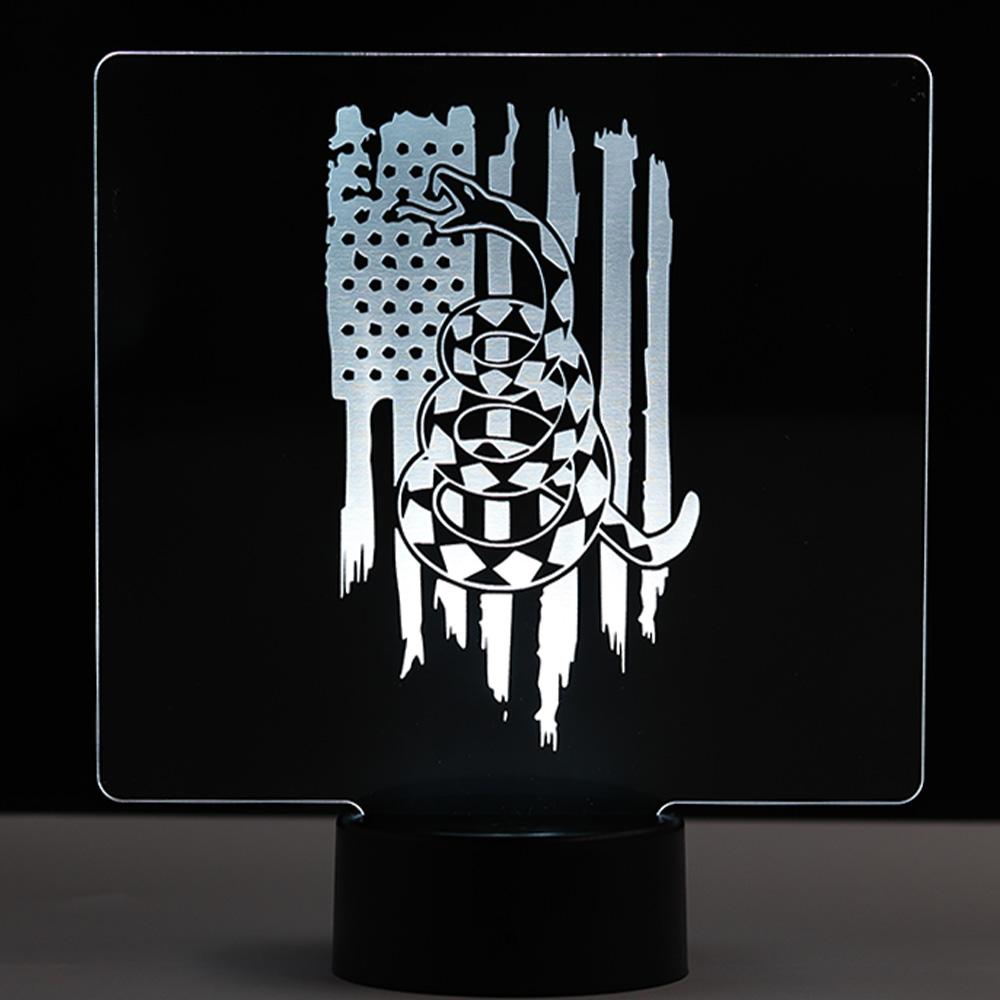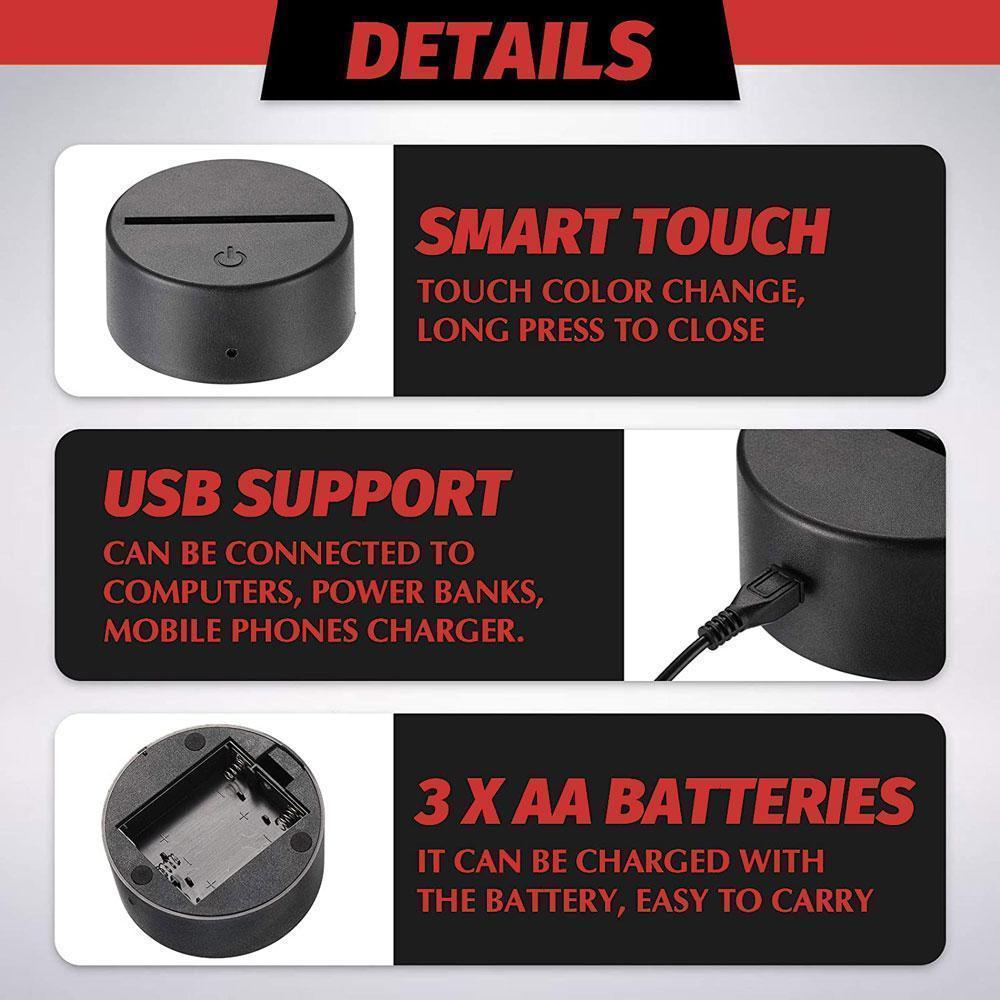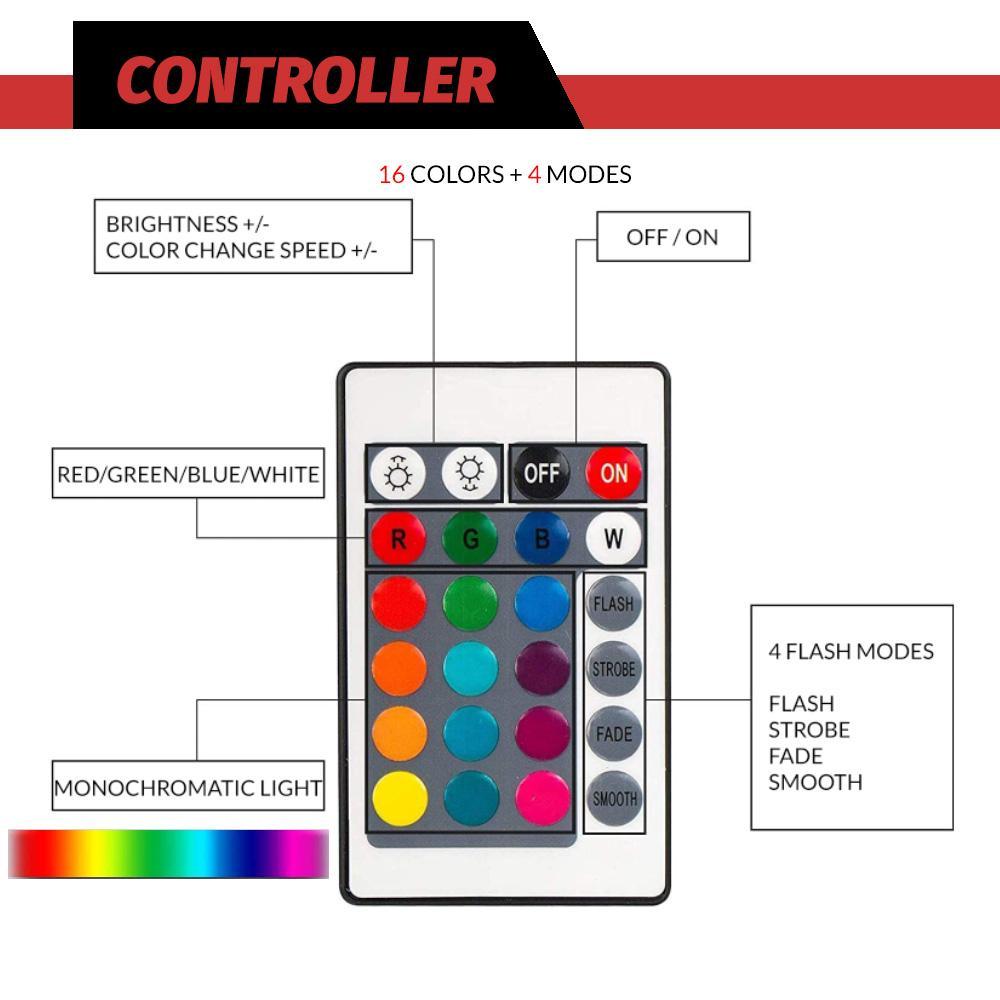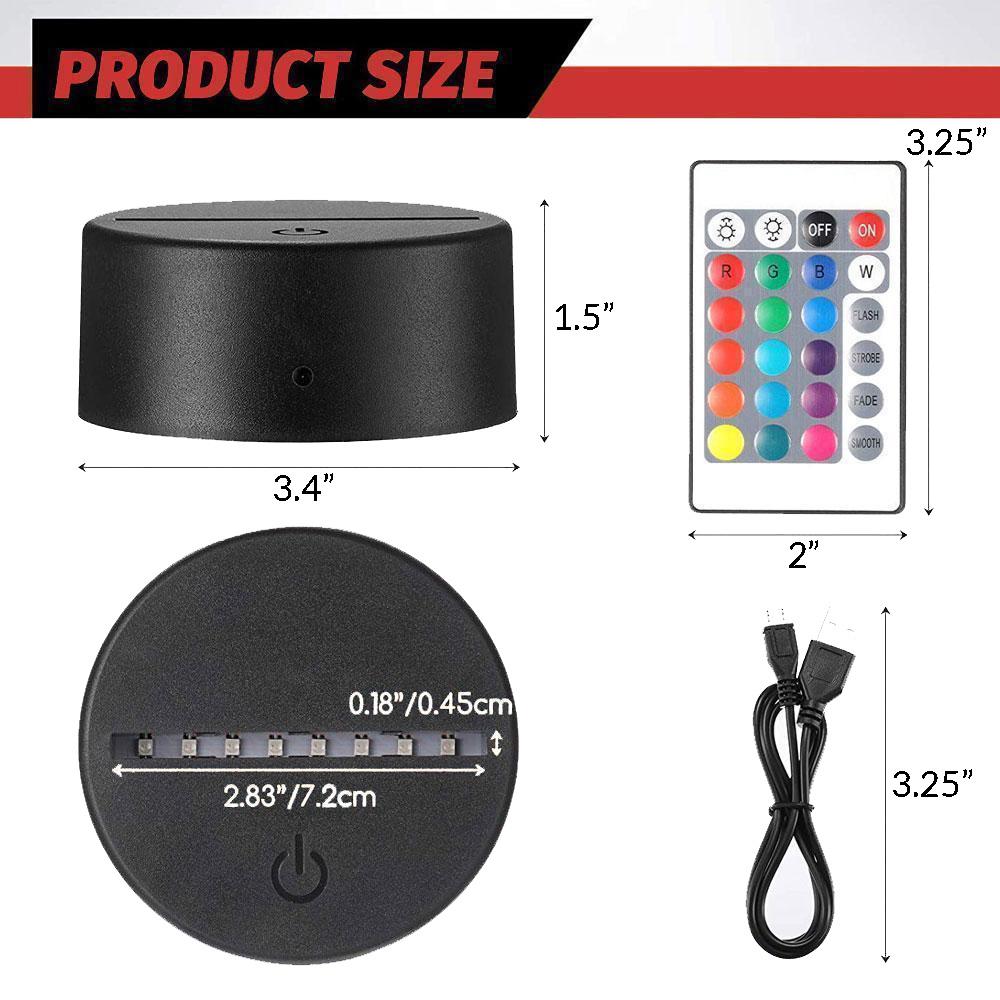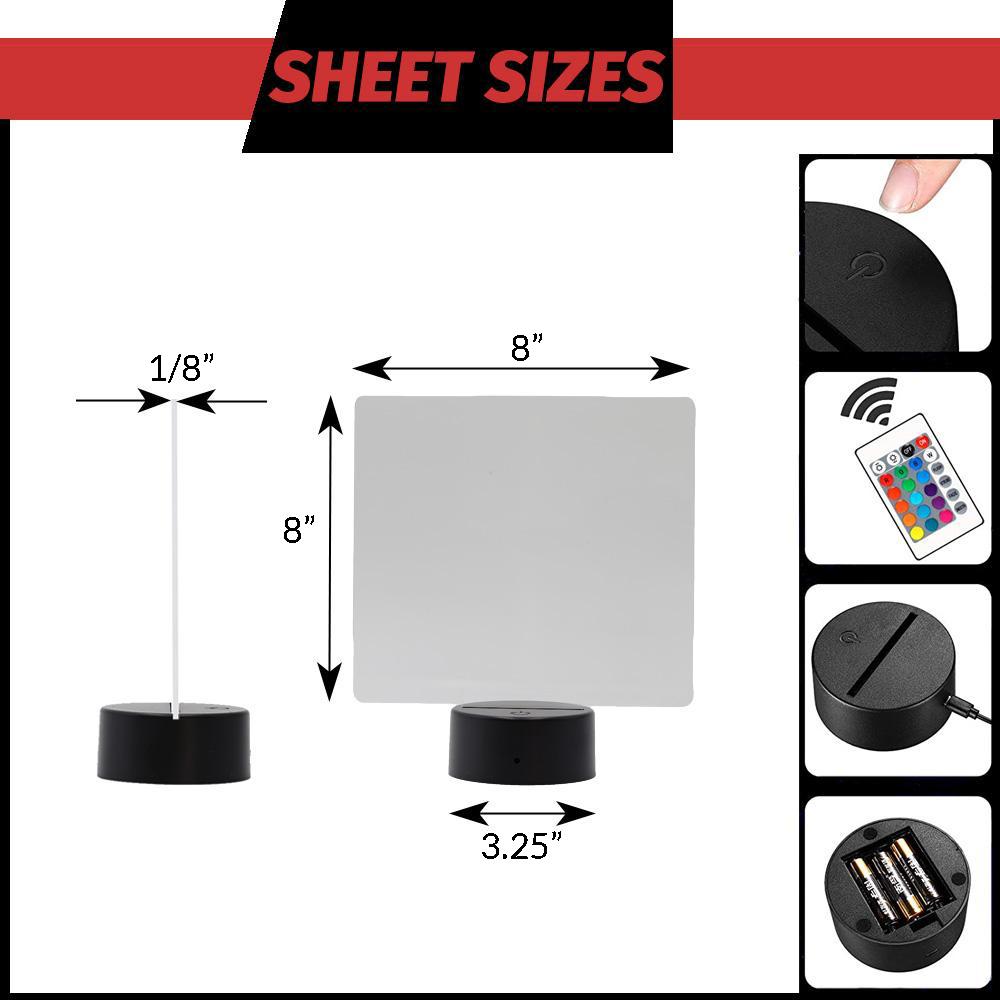 No Step On Snek Flag - Patriotic Led Sign
📏SIZE This sign is 8"x8"x1/8" with a 3"x1.5" base📏
LET THEM KNOW Express your love of freedom with a colorful LED No Step On Snek Flag sign with a backlit acrylic display.

MULTIFUNCTIONAL Features 16 colors and 4 display modes so you can always find a color or mode you like
VERSATILE Powered by 3 AA batteries (not included) or any USB port (USB cable is included)
REMOTE CONTROL Includes (IR) infrared remote control which helps you switch modes easily without having to touch the lamp
QUALITY Our top-quality cast (never extruded) acrylic is sourced and etched in the USA
100% Money Back Guarantee

📏SIZE This sign is 8"x8"x1/8" with a 3"x1.5" base📏
LET THEM KNOW Express your love of freedom with a colorful LED No Step On Snek Flag sign with a backlit acrylic display.

MULTIFUNCTIONAL Features 16 colors and 4 display modes so you can always find a color or mode you like
VERSATILE Powered by 3 AA batteries (not included) or any USB port (USB cable is included)
REMOTE CONTROL Includes (IR) infrared remote control which helps you switch modes easily without having to touch the lamp
QUALITY Our top-quality cast (never extruded) acrylic is sourced and etched in the USA
Patriotic LED Signs
There are many ways to show your patriotism like flags, wall hanging posters, or even clothing. But we saw that there wasn't much if you want to put something on your desk.
So we designed a line of LED backlit patriotic signs. We have everything from American flags to the no step on snek flag and even anti communisms and socialist signs. And of course we didn't forget about your 2nd Amendment rights signs.
So if you want your patriotism to shine bright then this is the sign for you, we are sure you'll have a great overall experience with our signs.
No Step On Snek Flag
The Step On Snek Flag has deep roots in our countries history. It was first used by our Revolutionary Navy. The idea for Gadsden flag came from Benjamin Franklins Live Free or Die political cartoon.
Now our Step On Snek Flag Sign is not the original design we added the American flag background.
Our new and updated design is sure to be a snowflake detector.
Do You Offer A Discount Code?
We do offer a military discount so our men and women who served our country will always get a discount when shopping with us.
We do also do occasionally offer sale codes. So watch out a discount code around the holidays. We will be posting those codes in the top banner of our website.
Why Has The No Step On Snek Flag Become So Popular?
The No Step On Snek Flag has because of what it represents.
It represents the freedom that our founding father fought for, and what they gave us.
So that is why this symbol of freedom is so popular.
I Love My Signs Are There More On Your Site?
Yes, we do have more if you go the top of the page you go to the top of the page and click on Patriotic Man Cave Signs you we find all of our other signs.
We have a few more snek flag designs and many more. We hope you find what you are looking for.